"Life is not perfect, only God is perfect"
— Andrea Hidalgo
Andrea Hidalgo or Jacqueline Sangalang is the daughter of Franco and Isabelle in Ikaw Lamang
Appearance
Edit
Andrea's appearance is the same as her mother's younger appearance Isabelle Miravelez. Andrea is attractive and beautiful just like her mother.
Personality
Edit
In the first book of the series, Andrea was described as an innocent child. Franco is not concerned about her because he believed that child was from Samuel. In the second book, Andrea is talkative and humurous. She believes that there was a time that she will become rich and a man of her life approach to her.
Early years
Edit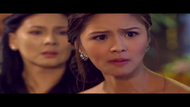 Relationship
Edit
Gabriel Hidalgo is Andrea's boyfriend. At the last episode of ikaw lamang they got married. They both went to the salvaicon, the land that Franco took from them and they kissed.
In the first prologue of the first episode, it was revealed that it was Andrea who walks inside the Talisay Ruins not Isabelle.
Andrea is fond of riding her scooter during her adolescence.
Fans of the series compared Isabelle and Andrea because it's same appearance or actor.

Compared to Isabelle, Andrea is more on being jolly than Isabelle, who is more on sadness and pain.

Kim Chiu was first rumoured to play Natalia when viewers thought that Isabelle's first baby will be Kim Chiu's character.
Andrea's outfits are more on pants, bermudas, shirts, t-shirts, and blouses. These are due she is more on a boyish side than girlish.
She prefers sandals, rubber shoes, and flats as she seldom wears skirt, dresses, and heels.
Gabriel is fond calling Andrea "Jacq" instead of "Andrea".
•Andrea is mistaken as Isabelle by Franco, Calixto, Lupe, Tessa, and especially Samuel because of her extreme close resemblance to her mother's younger appearance.